CAPE CANAVERAL, Fla. – A SpaceX Falcon 9 rocket successfully launched two communications satellites at 10:29 a.m. EDT Wednesday, but failed to land the rocket's first stage booster on a barge in the Atlantic Ocean.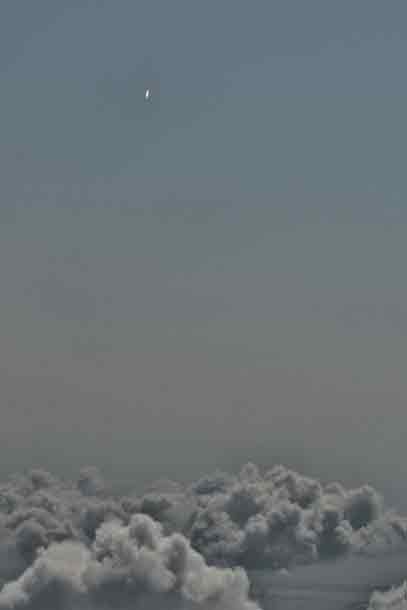 SpaceX Falcon 9 from 5,000 feet/Emery JeffreysIt streaked into the sky from Florida's Cape Canaveral Air Force Station on time at the beginning of a two-hour launch window.
About 2.5 minutes later, the rocket's two stages separated as planned. The first stage turned around and headed back to Earth for a failed landing on a barge. The upper stage continued carrying the two satellites in to a geostationary orbit 22,300 miles over the equator.
SpaceX warned that the high velocity and reentry heat the rocket will experience because of its high-orbit delivery will make it difficult to "stick" the landing. A stick landing is succesful
About nine minutes after the launch, the first stage descended to the deck of the barge. "Of Course I Still Love You" a few hundred miles east of the coast just as SpaceX's live video feed went dead.
"Ascent phase & satellites look good, but booster rocket had a [rapid unscheduled disassembly] on droneship," SpaceX CEO Elon Musk said in a tweet.
Another tweet from Musk said one of three Merlin engines on landing had less thrust.
Wednesday's launch marked the company's fourth sea landing and fifth overall.
The company was hoping for the fourth successful sea landing, but it still counts as a hat trick for ocean landings.
SpaceX landed a booster at Patrick Air Force Base in December after a spectacular night launch.
The two satellites, EUTELSAT 117 West B and ABS-2A, are operated respectively by Eutelsat and ABS -two companies that provide global communications services.