Reporters angle for a quote to find meaning as they witness an event. Often they don't realize the event is just a rough draft to history. The importance is often what happened, not what was said when it happened.
A photograph I made in 1978 as a reporter for The Logan Banner chronicled the last walk of Emmanuel Wilson "Willis" Hatfield, the last surviving child of Capt. Anderson "Devil Anse" Hatfield.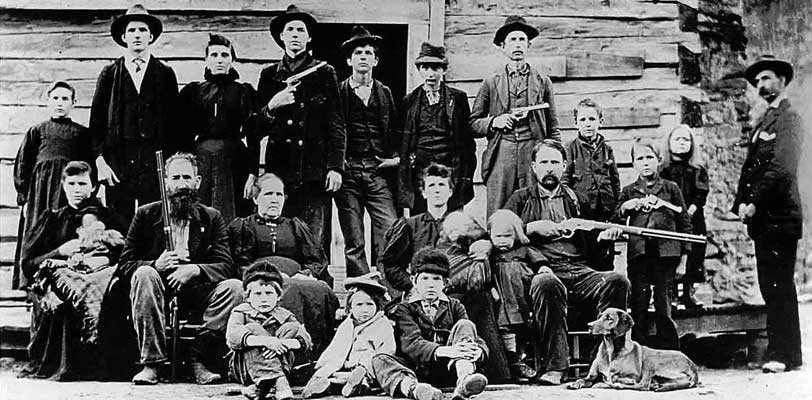 Anderson Hatfield family Photo / Library of Congress Click to enlargeA dozen men dozen men hoisted up the coffin in the broiling sun and carried Hatfield up a narrow, rocky path on the hillside to a family plot in the Hatfield Cemetery in Sarah Ann, West Virginia.
His final resting spot on the mountainside was at the foot of the ladder to heaven often called Jacob's ladder described in Jacob's dream in Genesis. A very fine line separates history from dreams.
Hatfield (Feb. 10, 1888 to Thursday, May 25, 1978) was the last surviving son of "Devil Anse" Hatfield, the patriarch of one of the families that feuded with the McCoy family for a quarter century. He was the 12th of 13 children.
Willis Hatfield was born 34 days after the battle of Grapevine Creek, one of the last recorded events of hostility between two families that claimed a dozen lives. At Grapevine Creek in Pike County, Ky. on January 18, 1888 Deputy Bill Dempsey was wounded by Jim McCoy and Killed by Frank Phillips.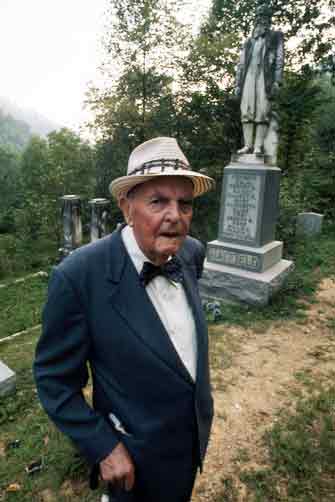 Willis Hatfield in the shadow of Devil Anse Hatfield's statue. Photo/National GeographicAs many as 150 men participated in the pitched battles along the Tug Fork River during the 25-year feud. The fought over everything from the death of one of the McCoys during the Civil War to the theft of a pig and an argument over and election.
The last recorded violence in the feud was Feb. 18, 1888 when Ellison "Cotton Top: Mounts was hanged in Pikeville, Ky for the murder of Alifair McCoy. McCoy was married to Willis Hatfield's older brother, Johnse.
Willis Hatfield outlived his youngest brother, Tennyson Samuel Hatfield, by 25 years. Neither had a role in the famous feud and both outlived their siblings born during the feud.
The two Hatfield men widened the gap dividing the McCoys and Hatfields. Early in his life Willis worked as a lawman in Logan and Boone counties. He also served as the jailer in Logan County.
At the cemetery Willis Hatfield's grave remained in the shadow of his infamous father just as he and his siblings did for most of their lives. The family cemetery is overshadowed by a life-sized marble statue of Devil Anse.
Erected in 1924, it was made by stonecutters in Italy working from photographers of the feudist. It and the cemetery are on the National Register of Historic Places.
Related articles.