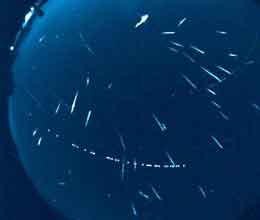 KENNEDY SPACE CENTER, Fla. - This year's Perseid meteor shower peaks Thursday and Friday, and it promises to be one of the best displays of the year, according to NASA.
Thursday night, Central Florida residents may see two light shows depending on the weather.
The first show begins at twilight when the glow of the sun is on the horizon. Mars, Venus and Saturn can be seen in the west near the moon.
At its peak expect to see about 50 meteors per hour, each traveling at 38 miles per second.
By the time the meteor shower begins, it should be clear over much of Central Florida with the areas west of Orlando clearing first, said Ali Turiano, News 13 meteorologist. The evening rains should be finished by then.
It's best views begins around 10 p.m., according to NASA, with the lights most visible between midnight and dawn.
The Orlando Science Center SkyWatch is underway from 6 p.m.-10 p.m. through Aug. 21 at the Crosby Observatory.
Here are some tips:
Get away from the city lights. Choose an area like the beach away from lights and with a wide open view of the skies. Look to the northeast.
If you're taking pictures, make sure the exposures can last at least a minute if not longer and aim the camera at a 30-degree angle, rather than straight up, which is the worst thing to do.
Sources: NASA, American Meteor Society
Florida observatories