CAPE CANAVERAL, Fla. - The crew aboard space shuttle Discovery fired their ship's braking rockets Wednesday for a long glide back to Earth on its final flight.
Discovery streaked west to east across Florida during its hour-long descent amid twin sonic booms signaling its arrival. It touched down for the last time at 11:57 a.m. at Kennedy Space Center.
NASA and space observers marked many of Discovery's bittersweet lasts. During the past 27 years, the spacecraft achieved many firsts.
Discovery carried 246 crewmembers into space and made nearly six thousand orbits around the Earth.
It carried the first female pilot, first African-American space walker and the oldest astronaut, John Glenn.
Shuttle Discovery also launched the Hubble Space Telescope and was the first shuttle to return to space following the Columbia and Challenger disasters.
For the final mission, Discovery's crew carried storage capacity to the I.S.S.
Astronauts also delivered Robonaut 2 to its new home.
The flight had a few light moments.
On March 7, William Shatner, 79, reprising his role as Captain Kirk on Star Trek, made the traditional wake-up call to the International Space Station crew.
"These have been the voyages of the space shuttle Discovery," Shatner said. "Her 30-year mission: To seek out new science. To build new outposts. To bring nations together on the final frontier. To boldly go, and do, what no spacecraft has done before."
Star Trek fans lobbied President Gerald Ford to name the first craft after the Enterprise. It's been on display at the Smithsonian since 1985. It never made a flight.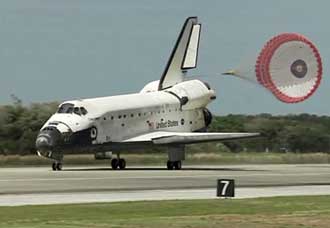 Discovery's last landingDiscovery's cargo completes the U.S. construction of the station, a $100 billion project of 16 nations that has been assembled 220 miles above Earth since 1998.
Russia plans to launch a last laboratory module next year that will complete the station.
NASA is retiring its three-ship shuttle fleet, beginning with Discovery, its oldest surviving shuttle, due to high operating costs and to free up funds to begin work on new commercial spaceships.
Wrangling over the U.S. budget, however, has blocked NASA from starting any new programs. Instead, Russian Soyuz capsules will supply the space station.
Discovery's sister ships Endeavour and Atlantis are scheduled to make their final flights to the space station in April and June to deliver the $2 billion Alpha Magnetic Spectrometer particle detector and a final load of cargo.
The next phase of the shuttle program includes laying off rocket scientists and skilled technicians that kept the fleet in space.
Many of them may be hired by commercial space exploration companies. But it's uncertain when that will begin.
A lively debate is expected over where the space shuttles will be displayed.
A total of 27 museums have made offers for the three craft.