People planning to see shuttle Endeavour's final launch may have to stick around a few days.
Several hours before the 3:47 p.m. NASA engineers halted the countdown because of problems with two heaters for the hydraulic system, The system controls the craft as it enters and leaves orbit.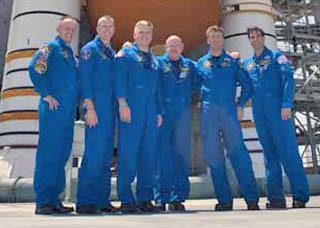 Endeavour's crew in front of EndeavourThe flight will be delayed for up to 72 hours, possibly Monday.
Endeavour is the youngest of the surviving shuttles in NASA's three-decade-old program to an end.
NASA estimates 700,000 people will attend Friday from vantage points across Central Florida. With so many space fans about, the best spot may be in front of a television.
Shuttle watchers include U.S. Rep. Gabrielle Giffords, wife of shuttle commander Mark Kelly. She is still recovering from a wound to the head suffered in a shooting rampage in her home district in Arizona in January. Her presence adds an emotional touch to what many regard as a significant moment for the U.S. space program.
President Barack Obama brought his family to Kennedy Space Center despite the delay.
Endeavour, named for ship commanded by British explorer James Cook, replaced Challenger, destroyed during liftoff in 1986. The Challenger blast nearly broke the collective hearts of the U.S.
The end of the shuttle program, an American Hallmark, may bring similar feelings when it ends later this year.
Endeavour's first launch was May 7, 1992, for satellite capture and repair. It's next home is the California Science Center in Los Angeles.
Until the shuttle program is replaced by commercial missions, the trip to space will be in a Russian Soyuz craft.
It will be a bittersweet launch for thousands of engineers and rocket scientists who will lose their jobs because the government did not plan for the gap between the end of the shuttle and the next program.
While crews prepare the space shuttle for launch at the Kennedy Space Center, Weather officer Kathy Winters is keeping an eye on a slow-moving front that has worked its way across U.S. southern states in recent days spawning severe thunderstorms and devastating tornadoes.
"We are expecting that to move down into central Florida," Winters said. "Now, it won't have the energy it has had and it won't be producing the severe weather as widespread as it has been doing the last couple of days, but we do expect that there could be an isolated severe thunderstorm along the front."
She said this concern caused her to move the probability of a weather-related delay in the launch from 20 percent to 30 percent. NASA officials say a slight delay in fueling the shuttle's external tank would not be a problem and there is a four-hour leeway built into the schedule.
---
The details
Mission: STS-134
Space Shuttle: Endeavour
Primary Payload: Alpha Magnetic Spectrometer and ELC-3
Launch Date: Delayed
Launch Time: 3:47 p.m. EDT
Launch Pad: 39A
Landing: May 13
Mission Duration: 14 days
Inclination/Altitude: 51.6 degrees/122 nautical miles
---