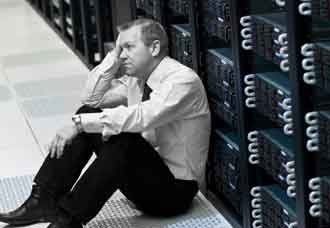 The top tech stories of 2012 were more about business failures than triumphs of U.S. tech prowess.
Internet technology evolves by the nanosecond. As a year, 2012 heralded impressive improvement and accomplishments -- the landing of the Curiosity Rover on the Red Planet.
The Internet is more mobile as millions of web surfers rely on tablets and smart phones. There are more than 700,000 apps available on both Android and Apple stores. On an average day, the Apple apps store takes in $15 million compared to about $3.5 million per day at Google Play, the Android app store.
There were also monumental mishaps -- Facebook's unremarkable Initial Public Offering and Apple Maps remarkable failure.
Facebook IPO flops
Facebook founder Mark Zuckerberg joined the nouveau riche when Facebook's Initial Public Offering flopped in May.
Shares opened 11 percent above the offering price of $38 but settled at the end of the day at $38.23, 0.6 percent ahead of the opening bell. During 2012, shares sank as low as $17.50
Zuckerberg, 28, will sell 30.2 million shares in the IPO offering. That will net him about $1.1 billion. Most of Zuckerberg's new worth will pay off a substantial tax liability because the Harvard dropout chose to retain substantial ownership rather than relinquish control to corporate board.
During the opening day Morgan Stanley propped up the price of the stock by executing buy orders whenever the stock fell to $38 -- to the tune of $175 million. Morgan Stanley now owns 38 percent of Facebook compared to Goldman Sachs 15 percent stake, sources told the WSJ.
As a result of excesses by Morgan Stanley excesses during the IPO prompted the Securities and Exchange Commission to levy a $5 million fine.
Internet users rebel against Congress
The Stop Online Piracy Act would have forced ISPs and others to participate in a government-run Internet blacklisting scheme. As the year began, the bill's momentum seemed unstoppable. On January 18, 2012, thousands of websites went offline to protest the legislation.
The protest was astonishingly successful. The day of the protest, 19 Senators and dozens of House members declared their opposition to the bill, which was abandoned within 48 hours. Republicans outnumbered Democrats among the ranks of new SOPA opponents, suggesting skepticism of Hollywood's copyright agenda.
Apple maps
Apple dropped support for Google Maps during the roll out of the iPhone 5 in September. The change came during a revision of the operating system that runs both the iPhone and iPad.
The resulting App was so inept that Apple CEO Tim Cook told iPhone owners to download Google Maps and later apologized to customers.
"At Apple, we strive to make world-class products that deliver the best experience possible to our customers," Cook wrote in a rare apology. "With the launch of our new Maps last week, we fell short on this commitment. We are extremely sorry for the frustration this has caused our customers and we are doing everything we can to make Maps better."
Less than a month later, Apple fired the manager in charge of the iOS project, largely because he was unwilling to apologize to customers.
The maps episode underscores that large companies continue to make business decisions that ultimately harm customers regardless of the impact. It was the latest move in a long-running feud between Apple and Google. Apple removed Google Maps partly to tweak Google because of its foray into the cell phone and tablet business.
Apple's mapping effort was so off the mark that entire cities appeared in the wrong locations. The Washington Monument was submerged in the Potomac River, much to the surprise of Washington, D.C. residents.
Australian police warned people to avoid using Apple Maps because there were so many errors users could have been in danger. One Australian city of 30,000 people mysteriously moved to the Outback.
New Yahoo CEO
Marissa Mayer, 37, assumed command of long-suffering Internet icon Yahoo in July, compelling many in Silicon Valley and Wall Street to cheer. Yahoo's gain was a loss for Google. She joined the company when Google had a handful of workers and employee No. 20.
Mayer, Google's first woman engineer is off to a great start because Yahoo shares have soared over 24 percent since Mayer become CEO. That's a reverse of a year-long slide peppered with management turmoil and layoffs.
Google Fiber arrives in Kansas City
The search giant announced the service's details and formally turned it on in 2012.
Google Fiber is now the cheapest and fastest Internet connection anywhere in the country at $70 a month for 1 Gbps in several areas of Kansas City, Mo. In comparison, Comcast's new 305 Mbps costs more than four times that price. If Google expands to other regions of the country, it will certainly be massively disruptive to the broadband industry.
Google's new service is 100 times faster than service most U.S. residents can obtain.
In comparison both Time Warner and Bright House Networks offer speeds of up to 10 Mbps for $50 and do not offer speeds even close to the speed offered by Google. Telecoms AT&T, CenturyLink, Sprint and Verizon do not offer comparable speeds. The telcos have been collecting fees for the Universal Service Fund earmarked for expanding broadband since 1996.
The U.S. has about 85.7 million broadband subscribers, second only to China's 125 million. Yet in many rural areas of the U.S., broadband access is not available. Generally, the U.S. has the slowest and most expensive broadband rates in the world.
Providers don't offer higher speeds despite their technical ability to do so to keep prices artificially high, according to David Cay Johnston, author of The Fine Print: How Big Companies Use "Plain English" to Rob You Blind.
The Fourth Amendment
The Fourth Amendment, America's buttress against unreasonable search and seizure by police was severely kicked and beaten to the curb by the U.S. Senate during the last two months of the year.
In November, a Senate committee approved a bill requiring police to obtain a search warrant before snooping into anyone's private emails. Computer, Internet and social media executives applauded the move along with constitutional scholars and the American Civil Liberties Union.
It was the first step in an effort to update the 1986 Electronic Communications Privacy Act, a law so convoluted that even members of the judiciary have trouble following it.
In the last week of December, the bill's language requiring cops to have probable cause before snooping was quietly removed from the version sent to the White House.
Probable cause means law officers must present a judge with credible evidence or reasonable suspicion that a crime has been committed before a search warrant is issued. Judges have traditionally been hard-nosed about the standard applied to probable cause.
Because of the changes, the authorities can seek email older than 180 days without first obtaining a search warrant.
In another Orwellian move, Congress changed the Video Privacy Protection Act to allow companies like Netflix to obtain a blanket consent from consumers to share information with their Facebook friends about what movies or TV shows they're watching. Previously it was illegal release the data for any public use.
Websites like Netflix could obtain blanket consent by changing its terms of service -- meaning the company could force you to agree to sharing of watched movies or not use the service.
Cybercrime
By some estimates, there are 75 million scam emails sent daily claiming 2,000 victims.
Security experts and investigators are assessing the damage of just one malicious email opened by an employee of the South Carolina Department of Revenue that lead to a massive data theft.
The incident discovered in August but not made public until October caused a massive cyberattack -- theft of 3.8 million tax returns, Social Security numbers of 1.9 million people, access to data on 699,900 business tax returns and 3.3 million bank accounts, according to NBC.com.
More tech
Apple was the victor in a $1.05 billion patent infringement judgement against rival Samsung. Apple claimed Samsung copied some of its iPad and iPhone innovations. Samsung unsuccessfully argued that Apple couldn't patent a rectangle.
Microsoft released Windows 8 on the public in October, its first operating system upgrade since 2009.
Microsoft also released the Windows Surface, a tablet that the company called a fundamental shift that would tie Windows 8, Windows tablets and Windows smart phone together.
The scientific community endured 7 minutes of terror when NASA's Mars Curiosity Rover landed on Mars in August.