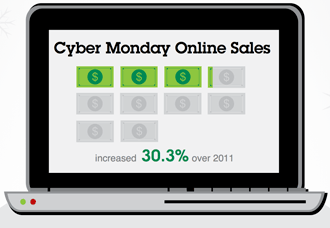 ARMONK, N.Y. -- Technology shaped the day when holiday shoppers turned Cyber Monday into the biggest spending day ever with online sales growing 30.3 percent over the same period last year, IBM said.
Much of that commerce took place on the consumer's couch, according to Jill Puleri of IBM's Smarter Commerce retail analytics group.
"This year it is couch commerce," Puleri said. "Consumers are spending all day long on their couch buying things from their mobile device."
Not only are consumers using mobile devices, but many are also using a second device
"Consumers are using mobility. Mobile is hot and mobile will continue to be hot through the holidays," Puleri said.
She calls today's connected buyer the chief executive consumer.
"Boy, do they know what's going on whether they are checking prices or they are checking availability or just checking in with friends, this consumer is savvy and connected," she said. "They have all the tools at their fingertips. The consumer is empowered and in control."
For decades, it was up to the a retailer's chief marketing officer to get the message across to buyers. Now, it's marketing and information analytics about online behavior.
A new consumer strategy is show rooming -- customers trying merchandise in the store but using mobile devices to find the berst deal.
Puleri said that put stores on the spot.
"They can't let the shopper out of the store without buying. that means closing the deal on the spot'" she said.
The strategy she described compelled many sales people to offer services like shipping on the spot, she said.
IBM revealed key facts about Cyber Monday:
Consumer Spending Increases: Online sales increased 30.3 percent over 2011.
Shopping peaked at 11:25 am EST
Mobile sales reached close to 13 percent, an increase of more than 96 percent over 2011.
The iPad continued to generate more traffic than any other tablet or smartphone, driving more than 7 percent of online shopping. This was followed by iPhone at 6.9 percent and Android 4.5 percent.
While consumers continued to spend more, they once again shopped with greater frequency to take advantage of retailer deals as well as free shipping.This led to a drop in average order value by 6.6 percent to $185.12. However, the average number of items per order increased 14.1 percent to 8.34 compared to Black Friday.
Cyber Monday sales growth was led by several industries which include:
Department stores continued to offer compelling deals and promotions that drove sales to grow by 43.1 percent over Cyber Monday 2011.
Health and Beauty sales increased 25.1 percent year over year with consumers once again choosing to pamper themselves this holiday.
Home goods maintained its momentum this year, reporting a 26.8 percent increase in sales from Cyber Monday 2011.
Apparel sales were also strong this holiday with Cyber Monday numbers showing an increase of 25.3 percent over 2011.