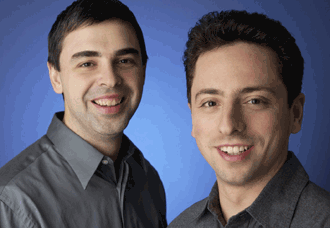 Google has the best reputation of any company in the U.S., a new study of 30,000 Americans by Harris Interactive reveals.
Google secured a reputation quotient of 84.05, easily besting the second-place company, Johnson & Johnson, the reasearch firm said. The conglomerate 3M and conglomerate holding company Berkshire Hathaway came in third place and fourth place, respectively. Apple nabbed the fifth spot in the study with an 82.05 RQ.
"There was a lot of jockeying for the top four positions," said Robert Fronk with Harris Interactive. "It was the same four companies with slightly different results."
Google ranked third in 2010, moving to the top spot. Berkshire Hathaway, owned by billionaire Warren Buffet, ranked No. 1, but moved to fourth place in this year's study. Johnson & Johnson ranked second for the second year in a row.
According to Fronk, Amnerican opinion makers are learning to separate the crises of a few companies from an entire industry instead of paintining companies with a broad brush.
However that broad brush coninues in the financial services industry, he said.
Americans judge the finanancial services industry as using systemic selfishness, poor decision making, and a lack of transparentcy and honesty, he said.
Harris Interactive's reputation quotient is determined by surveying more than 30,000 Americans on their opinions of the top 60 "most visible companies" in the U.S. Harris Interactive groups the responses into six categories that matter most to a firm's reputation, including emotional appeal, products and services, social responsibility, vision and leadership, workplace environment, and financial performance.
Aside from earning the best reputation, Google secured the top spot in financial performance and workplace environment. Intel earned top honors in products and services.
Outside of the top five, the technology industry performed exceptionally well in Harris Interactive's study. Intel, Amazon, Sony, and Microsoft all made it into the top 16. For the first time, Facebook made a showing in the list, securing the 31st spot. All told, the technology sector was viewed most favorably by Americans -- 75 percent of respondents gave the industry a "positive rating," Harris said.
One other interesting tidbit from Harris Interactive's study: insurance and financial services giant AIG was the lowest-ranked corporation, followed closely by oil and giant company BP and investment banking and securities firm Goldman Sachs.
The bottom 10 companies on Harris Interactive's reputation list are Delta, JP Morgan Chase, Exon/Mobil, General Motors, Bank of America, Chrysler, Citigroup, Goldman-Sachs, BP, and AIG.
Products & Services

Intel Corporation
3M Company
Johnson & Johnson
Google
Procter & Gamble Co.

Vision & Leadership

Berkshire Hathaway
Google
Apple
Intel Corporation
The Walt Disney Company

Workplace Environment

Google
Johnson & Johnson
Apple
Berkshire Hathaway
3M Company

Social Responsibility

Whole Foods Market
Johnson & Johnson
Google
The Walt Disney Company
Procter & Gamble Co.

Emotional Appeal

Johnson & Johnson
amazon.com
UPS
General Mills
Kraft Foods

Financial Performance

Google
Berkshire Hathaway
Apple
Intel
The Walt Disney Company