The Davidson family owned The Daytona Beach News-Journal in Daytona Beach, Florida, when I worked there in the early 1990s. The newspaper's masthead included the name of the editor of the family's defunct afternoon newspaper, the Evening News. The man would come to work every day, go to his office, and close the door behind him. Like everyone else on staff, he presumably was paid a salary; and, as editor of a newspaper -- regardless of whether it existed or not -- he was probably paid more than the reporters and lower-level editors.
Every now and then he would drift into the newsroom. If he got close enough I could see the look of utter futility on his face. He was a lost soul in search of his place in a world that had moved on without him.
I thought about that editor this week when I heard that the News-Journal had laid off 99 employees. His face, it appears, has become the face of American newspapers. The American newspaper industry, too, is in search of its place in a world that has moved on without it.
Every day, as circulations fall and advertising revenues plummet, jobs are cut, and the newspaper industry becomes less essential to our lives. Newspapers failed to adapt to emerging technologies, to competing media, and to the changing interests of Americans. The failure of American newspapers also is the result of its own complacency, greed, folly, waste, and hubris.
The Davidson family, which owned the News-Journal, spent millions of dollars of corporation money for naming rights on a local performing arts center. The Davidsons neglected to inform its minority owner, Cox Enterprises. Cox predictably sued. The News-Journal tried to opt out of the lawsuit by buying the newspaper's stock from Cox. A judge put the value of the stock at $129 million. The Davidsons then announced it would sell the News-Journal. The layoffs were announced soon after that.
Maybe the News-Journal deserved what happened to it. It's never been a great newspaper after all and its failure was largely the result of its arrogance. But, whether the newspaper was great or mediocre is almost beside the point. Darwinian theories are not relevant here because newspapers aren't like other businesses.
The state of the American democracy has always been - and perhaps always will be -- inextricably connected with the state of American newspapers. "Were it left to me to decide whether we should have a government without newspapers, or newspapers without a government," Thomas Jefferson said, "I should not hesitate to prefer the latter."
Democracies depend on its citizens to be involved. This depends on its citizens to be informed. For that, we depend on newspapers. Even relatively bad newspapers give us far more of the information we need to participate in a democracy than other news media. Television news or talk programs, talk radio, blogs, or any other news media are, at best, supplemental vitamins.
On-line newspapers will replace print newspapers just as talkies replaced silent movies early last century. As newspapers transform themselves, they must find a way to be profitable, but they also must convince readers that it is in the best interests of readers to support newspapers. This requires that newspapers act not like any other business, but that they act as guardians of the public trust. It is in America's best interests to not just preserve newspapers but to make them essential again. The future of the democracy hangs in the balance.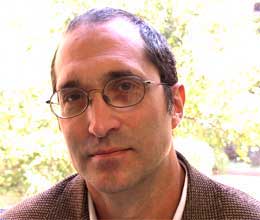 Chris Lamb is a professor of media studies at the College of Charleston in Charleston, S.C. His latest book is I'll Be Sober in the Morning: Great Political Comebacks, Putdowns and Ripostes. He can be reached at lambc (at) cofc.edu.