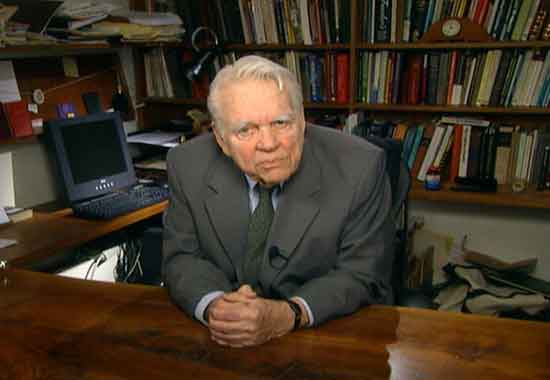 One of the last lions at CBS news has faded from view from the network's fabled news magazine 60 minutes.
Andy Rooney, 92, and his folksy and often curmudgeonly essays have been a staple of 60 Minutes since 1978. His essays about the foibles of daily life, politics and business have been described as both insightful and irritating.
His detractors say he was out of touch with contemporary culture. A legion of fans say he is merely normal and speaks about subjects others choose to ignore, according to TV Newser.
Rooney has delivered 1,096 commentaries to the newsmagazine since becoming a regular contributor in July 1978, according to CBS. He will formally announced his reduced role in essay No. 1,097 Sunday night.
"I've dreaded saying this for years," Rooney said.
When asked to choose his ideal job and profession, he told Morley Safer, "I would choose to be on TV and I want to deliver essay on 60 minutes."
His essay was "preceded by a segment in which Rooney looks back on his career in an interview with Safer," according to the New York Times Media Decoder blog.
Most "60 Minutes" viewers saw only Rooney's curmudgeonly side.
His experience as a war correspondent shatters the curmudgeon image. He attended Colgate University until he was drafted into the Army in 1941. In February 1943, he was one of six war correspondents who flew with the Eighth Air Force on the first American bombing raid over Germany.
Instead of curmudgeon, he was best known in the news business as a segment producer on the hard-edged side of 60 minutes.
Rooney described a frightening memory that coincided with the premiere of crime drama Mississippi Burning in 1988. It's a revealing moment for someone seen as a curmudgeon.
The motion picture is based on the real-life murders of three civil rights workers in Neshoba County Missisippi. The three, James Chaney, 21, Andrew Goodman, 20, and Michael Scwerner, 24, were lynched June 21, 1964 during "Freedom Summer," a movement dedicated to registering disenfranchised blacks living in the Jim Crowe south.
Rooney and newsman Harry Reasoner experienced the chaos of the FBI investigation firsthand while filming a segment for 60 Minutes in Philadelphia, Miss. They were filming in front Neshoba County Courthouse when Sheriff Lawrence Rainey arrested Reasoner as an act of intimidation. An outraged Rooney called CBS in New York and the bailed his friend out of the backwater jail.
During a screening of the film in 1988, Rooney wrote in his newspaper column that his memory of the incident was so vivid that he slipped out of the movie midway through in a cold sweat.
He wrote his first television essay, a longer precursor of the type he does on 60 Minutes, in 1964, "An Essay on Doors." From 1962 to 1968, he collaborated with Reasoner, with Rooney writing and producing and Reasoner narrating, on such notable CBS News specials as "An Essay on Bridges" (1965), "An Essay on Hotels" (1966), "An Essay on Women" (1967), "An Essay on Chairs" (1968) and "The Strange Case of the English Language" (1968). That same year, he wrote two CBS News specials in the series "Of Black America." His script for "Black History: Lost, Stolen or Strayed" won him the first of four Emmy awards, CBS said in a new release.
"An Essay on War" (1971), done for PBS, was his first appearance on television as himself and won Rooney his third Writers Guild Award.
Later, he wrote, produced and narrated a series of broadcasts for CBS News on various aspects of American life, including "Mr. Rooney Goes to Washington," for which he won a Peabody Award, "Andy Rooney Takes Off," "Mr. Rooney Goes to Work" and "Mr. Rooney Goes to Dinner." Beginning in 1979, he wrote a weekly syndicated newspaper column that was recognized by the National Society of Newspaper Columnists when he was presented with its Ernie Pyle Lifetime Achievement Award in June 2003. That September, he was honored with a Lifetime Achievement Emmy. The Overseas Press Club gave him its President's Award in 2010 for his reporting in World War II for The Stars and Stripes.
Rooney joined CBS in 1949 as a writer for "Arthur Godfrey's Talent Scouts," a Top 10 hit that was number one in 1952. He also wrote for "The Garry Moore Show" (1959-65), helping it to achieve hit status as a Top 20 program. At the same time, he wrote for CBS News public-affairs broadcasts such as "The Twentieth Century," "News of America," "Adventure," "Calendar" and "The Morning Show with Will Rogers Jr."
In addition to magazine articles he wrote earlier in his career, Rooney is the author of 16 books, most recently Andy Rooney: 60 Years of Wisdom and Wit, was published by PublicAffairs in 2009. Rooney's other books are: Air Gunner; The Story of The Stars and Stripes; Conquerors' Peace; The Fortunes of War; A Few Minutes with Andy Rooney; And More by Andy Rooney; Pieces of My Mind; Word for Word; Not That You Asked…; Sweet and Sour; My War; Sincerely, Andy Rooney; Common Nonsense, Years of Minutes and Out of My Mind.
"60 Minutes" remains by far the most popular newsmagazine on American television. The show has weathered any number of changes over the years, including the death of the correspondent Ed Bradley in 2006.
Longevity at "60 Minutes" is nothing new. Original correspondent Mike Wallace, 93, worked full-time until 2006, then popped up occasionally until 2008.
The late Don Hewitt, 60 minutes creator and long-time executive producer, was 81 when he was nudged from the throne in 2004. He died five years later. Hewitt is credited with many techniques now taken for granted in the industry,
Safer has served 60 Minutes since December 1970.
Reasoner, Rooney's best friend, died in 1991. Reasoner and Rooney impacted 60 minutes as much as legnedary story teller Charles Kuralt impacted TV storytelling.