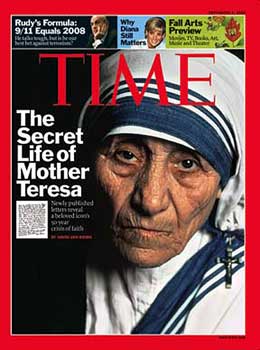 Mother Teresa may really be the proverbial riddle wrapped in an enigma. She eschewed controversy preferring instead to focus on loving the sick and poor.
She was known as the saint on earth and the saint of the gutters as she ministered to the lowest of the low in Calcutta, India. In 1979 she received the Nobel Peace Prize. She rejected the prize's money and used it to feed he poor and heal the sick.

A new book of her letters to a spiritual confidant reveals that she toiled for more than 40 years doubting the existence of God. Since that revelation she has been criticized, vilified and called an atheist.

Mother Teresa: Come Be My Light (Doubleday), consists primarily of letters between Teresa and her confessors and superiors over a period of 66 years, provides the spiritual counterpoint to a life known mostly through its works. The letters, many of them preserved against her wishes (she had requested that they be destroyed but was overruled by her church), reveal that for the last nearly half-century of her life she felt no presence of God whatsoever -- or, as the book's compiler and editor, the Rev. Brian Kolodiejchuk, writes, "neither in her heart or in the eucharist."

For millions of people she seemed more the word of God made flesh than the word of God.

Many saints have doubted God. Mother Teresa is not the first. Count on it. She won't be the last. Finding God is the part of a saint's life that gets told over and over again in Sunday school. Even Jesus called out from the cross, "My God, My God why has thou forsaken me?"

Mother Teresa noted that it is not necessary to be a saint to do good. "To do good you need willing hands to do the work of God, not cleans hands. If we wait for our souls to be clean, then our time on earth will slip away before we can do good."

My only contact with Mother Teresa was in June 1982 in the tiny coal mining town of Fleming-Neon, Ky. I was the pool photographer for the Associated Press.

For nearly a week I followed Mother Teresa around while she and the Sisters of Charity opened a convent in the heart of Eastern Kentucky's coal fields. She arrived in Fleming-Neon chauffeured by two Kentucky State Police troopers. They volunteered for the duty to be near the saint on earth because they were catholic, not because of a big security risk.

When she got into the police cruiser's back seat, she could barely see out the window.

As she passed through town on the first day of her visit, few seemed to notice. the time and temperature clock at the bank said "Welcome Mother Teresa. 81 degrees."

For several days I kept my distance from Mother Teresa. I hoped for photos of a godly woman doing her work. I was not disappointed. My favorite shot was two barefoot nuns carrying heavy boxes down a dirt street in Fleming-Neon. It made an impression on the editors of the L.A. Times who chose it for the front page.

Mother Teresa counted her beads. She attended mass daily and visited the good people of Fleming-Neon. On her final day in the Appalachians, she granted the obligatory press conference. It's not every day that the saint on earth speaks with the working press. She was obviously nervous, as she talked with reporters, her bony fingers counted each bead of her Rosary time and time again.

Did she skip directly to "Hail Mary."

As the press conference wound down, I snapped photos. She glanced at me frequently as if to signal that it was time for me to ask a question. I had been silent for nearly a week.

What would you ask the saint of the gutters?

It was finally my turn. I asked my question as the TV cameras rolled and panicked to the point of asking a very generic essay question not even worthy of a student in bonehead English.

"If you could give the people of Eastern Kentucky one simple piece of advice, what would it be?" I asked. As a reporter I had more experience wreaking havoc and wrecking reputations than listening to Mother Teresa.

She smiled that saintly smile.

"Do small things with great kindness," Mother Teresa said.

The press conference ended after her remark. There are few meaningful questions to ask after the saint on earth utters a timeless statement.

We forget that saints are really God's people, not always people of who have reached a certain degree of holiness. Some Christian denominations identify saints as followers of Jesus. God's people endure the same failures as anyone else. There is a difference. God loves us despite our shortcomings. During those years of spiritual barrenness, God continued to love Mother Teresa.