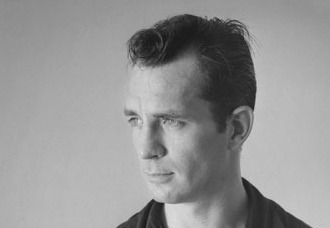 Jack Kerouac, the legendary chronicler of the Beat Generation, yearned for recognition and fame as he finished his first novel at a College Park cottage.
He had no idea that publication of On The Road, would anoint him king of the counterculture Beat Generation. September 7 marked the 50th anniversary of the publication of On The Road. Dharma Bums, was written in College Park and published in 1958.
On the Road was Kerouac's second published book. His first was The Town and the City in 1950. He wrote many other novels between the time he wrote On The Road and when it was published six years later. The 1950s was an incredibly productive time for Kerouac.
"He was perched on the precipice of literary immortality," said Bob Kealing, Central Florida's expert on Kerouac and his journey through Florida.
The living part of Kerouac's journey to immortality was shorter than most and very rocky. He died in 1969 at a St. Petersburg hospital at the age of 47 from the ravages of alcoholism. He was nearly destitute. His life was shorter than the legend of freewheeling adventure inspired by his book and counterculture friends.
Kerouac's legacy lives on in the small cottage at 1418 1/2 Clouser Ave. in College Park. The cottage, known as the Kerouac House has provided shelter to more than 20 writers-in-residence from around the world. They were hosted by the nonprofit Kerouac Project of Orlando.
The road to the founding of the Kerouac House began when Kealing, a reporter for WESH, discovered that Kerouac had been living with his mother in Orlando when On The Road was published. He has written extensively about Kerouac's Florida connection.
Kealing said many residents believe that Orlando has little real history. "I want to show people that Central Florida does have a history outside of Disney and NASA," he said.
He wrote a 4,000-word article about Kerouac's ties to the Sunshine State. College Park bookstore owners Marty and Jan Cummings read the article and made that connection more substantial. They suggested to Kealing that a nonprofit group should be formed to serve as a work place for new writers. You can learn more about the beginnings of the project at the Kerouac Project Web site.
The journey to the road
In the early 1940s Kerouac joined of a circle of friends in New York that included poet Allen Ginsberg, Neal Cassady, author John Clellon Holmes, writer Herbert Huncke and novelist William S. Burroughs. It was the beginning of the Beat Generation.
All the major players in the Beat Generation are dead, and experienced some literary success, but many of them endured major problems with alcoholism and drug use. Holmes, known as the quiet Beat, did not endure a struggle with drugs.
"That's where a lot of the beats fell down with the addictions in their lives," Kealing said.
Kerouac was arrested in 1944 as an accessory in the murder of David Kammerer, who'd been stalking Kerouac's and Ginsberg's friend Lucien Carr since Carr was a teenager in St. Louis. When Kammerer's obsession with Carr turned violent, Carr stabbed him to death and turned to Kerouac for help. Carr and Kerouac disposed of the body in the Hudson River.
Burroughs urged them to surrender to police.
Carr was sentenced to up to 20 years in prison for murder, but served only two years. After his release, he went to work for United Press International as a copy boy. He rose to national editor before he retired. Unofficial lore at UPI claims Carr went to prison and his parole was a lifetime of editing at UPI while the members of the Beat circle gained fame.
While in jail awaiting trial, Kerouac agreed to marry Edie Parker if she'd pay his bail. After the jailhouse marriage, it was annulled a year later.
Kerouac and Burroughs briefly collaborated on a novel about the Kammerer murder entitled And the Hippos Were Boiled in Their Tanks. Though the book was never published, an excerpt eventually appeared in Word Virus: A William S. Burroughs Reader. While Kerouac lived in Florida he wrote about the murder in his novel Vanity of Duluoz.
Burroughs shot and killed his wife, Allen Ginsberg committed his mother to a mental institution, and Kerouac refused to acknowledge his daughter Jan - or pay child support to his second wife, Joan Haverty.
Huncke, a street hustler and drug addict, used the word "Beat" to describe someone living roughly with no money and few prospects. Huncke coined the phrase that eventually described an entire generation. Kerouac said that "Beat" came from beatification, to be supremely happy.
The men of the Beat Generation were hard on their women, in real life and in print. The women paid them back with worship. Edie Kerouac-Parker, Kerouac's first wife, just wanted to be with Jack, and Jack wanted, more than anything else, to be with his typewriter.
On the Road was written in three weeks during 1951 in a Manhattan apartment, while Kerouac lived with Joan Haverty, his second wife, years before he came to Florida. It was almost autobiographical and romanticized hitchhiking across the country with Cassady who appeared as Dean Moriarity. Many in the inner circle were characters in the book.
Hitchhiking was elevated to a form of adventure and political statement for counterculture dropouts. A generation of authors and screenwriters used the idea of riding with a stranger on the open road to conjure up oddball characters, drug use, enlightening encounters and rides from hell.
The book was rejected by several publishers. One editor at Alfred A. Knopf predicted in a rejection letter that Kerouac's manuscript would have few sales and was "badly misdirected.". History and prominent critics said otherwise; the book sells about 100,000 books per year, 50 years after it was published. Knopf also rejected George Orwell's Animal Farm because it feared American's would not like animal stories.
It was during the writing of On The Road that Carr had a great influence. Kerouac was a speed typist in high school and Beats believed he could type up to 100 words per minute.
Carr insisted that a writer's first thought was the best thought.
To avoid stopping to add paper, Kerouac used rolls of teletype paper stolen by Carr, by then an editor at UPI. That story is woven into the lore told by thousands of United Press International veterans. By some accounts, including his own, Carr supplied the teletype paper. But Carr denied stealing it. "I didn't steal it," he once told a UPI coworker. "I just stuck it under my arm and brought it home."
Claude Sitton, Carr's room mate for several years when they both worked at UPI, conceded that use of teletype paper could be true. "It's possible, but I can't say for sure," Sitton said in a telephone interview.
The roll still exists. In 2001, Indianapolis Colts owner Jim Irsay paid a record $2.4 million for it at an auction. The roll is on a national tour that has included a stop in Orlando. The publisher's manuscript was recently sold at auction for $70,000. It's not on a roll of paper because a publisher's manuscript is used for final edits. It is owned by Orlando's Kerouac Project.
Sitton, retired editor of the Raleigh, N.C., News & Observer avoided the personal demons that inflicted the Beats. After UPI, he joined The New York Times as a staff writer. He built a reputation as a pioneering reporter covering civil rights and desegregation in the South. In 1982 Sitton was awarded the Pulitzer Prize for commentary.
"I didn't know Kerouac well," Sitton recounted, "I only met him a few times."
Sitton says the book was "big on the buzz circuit."
The Dharma Bums, written on teletype paper during a frenetic 11 days and nights, continued to give Kerouac the notoriety that he craved.
He couldn't let go of the freewheeling adventure he shared with Cassady and the other that were often fictionalized in his novels. After he finished his last novel, Pic, he succumbed.
"After his life on the road, there was nothing left," Kealing said.
Florida roots
Kerouac lived in at least four Sunshine State locations:
1418 1/2 Clouser Ave., College Park, Orlando. He spent 11 days and nights writing Dharma Bums there.
1309 Alfred Dr., Kingswood Manner, Orlando, 1961-`62. He wrote Big Sur there.
5155 10th Ave., St. Petersburg, 1964-`6265. Vanity of Duluoz was written there.
5169 10th Ave., St. Petersburg, 1968-`6269, Kerouac's last novel, Pic, was written there.
He purchased property in Sanford and planned to build a writer's commune. That plot is now covered by Interstate 4.
None of the homes are open to the public.
How Jack ranks as a writer"