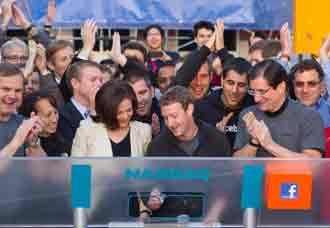 Mark Zuckerberg joined the ranks of the nouveau riche Friday despite the fact Facebook's Initial Public Offering nearly flopped.
Most tech IPOs are ranked up there with events like slaying the fatted calf, declaring a jubilation or the parting of the Red Sea. The nouveau riche (French for "new rich", pronounced [nu.vo ʁiʃ]), or new money, are those who have acquired considerable wealth within their own generation.
Zuckerberg rang the NASDAQ opening bell wearing his signature hoodie while flanked with a legion of Facebook co-workers. Shares opened 11 percent above the offering price of $38 but settled at the end of the at $38.23, 0.6 percent ahead of the opening bell. Its dismal opening was the lone bright spot in a bad week for the market.
The Dow Jones Industrial Average suffered its 12th loss in 13 sessions, the worst 13-session performance since October 1974, the Wall Street Journal reported.
Zuckerberg, who turned 28 on May 14, plans to sell 30.2 million shares in the IPO offering. That will net Zuckerberg about $1.1 billion.
But Zuckerberg won't be hanging on to his cash. Facebook said he will use the "substantial majority" of the windfall to cover the massive tax bill he'll be hit with, thanks to his plan to exercise a large stock-options grant that will increase his ownership stake in the company he founded.
Experts said the price/earnings ratio was too high. In other words, the estimated value of the company was too high. The underwriter did a good job of estimating the opening value because that's what they are supposed to do.
Over the course of the day Morgan Stanley propped up the price of the stock by executing buy order whenever the stock fell to $38 -- to the tune of $175 million. Morgan Stanley has a big stake in Facebook now because of its position buying shares to prop-up the price. Morgan Stanley now owns 38 percent compared to Goldman Sachs 15 percent stake, sources told the WSJ.
There are only two reasons to buy an IPO:
It may be a good deal for the buyer.
The buyer pays no brokerage fee and commission on opening day because that is considered a cost of the IPO. Facebook, Morgan Stanley and Goldman Sachs paid the fees.
Institutional buyers save loads because they paid no commission.
The average Joe had to have a brokerage account deposit of $250,000 to $500,000 for even a tiny chance at buying an over-rated stock.