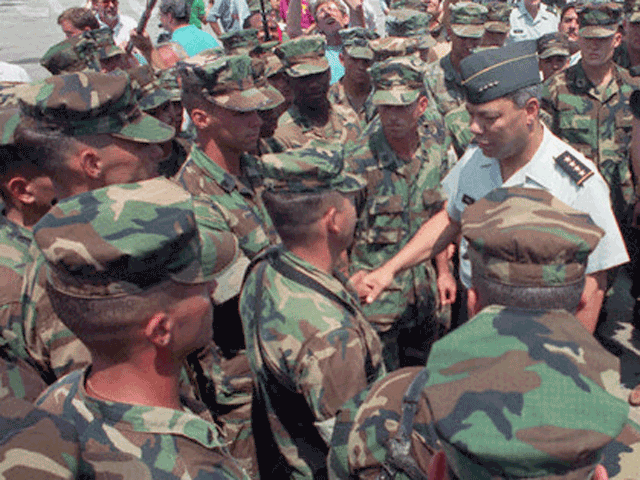 MOREHEAD CITY, N.C. (UPI) - A brass band tooted "The Marine Hymn" and thousands of soldiers boarded ships for Saudi Arabia, where a massive buildup of ground troops is under way to counter Iraqi troops massing at the border.
The Pentagon refused Friday to confirm the number of soldiers being dep1oyed, but based on the size of the units, it appeared 45,000 marines would head out to raise U.S. troop strength to more than 100,000 in the next few weeks.
"As always our Marines are fired up and ready to go," said Gen. Colin Powell, chairman of the Joint Chiefs of Staff.
Powell flew by helicopter to the North Carolina base to talk with troops.
"These soldiers are inspired to begin with," he said. "They don't need a four-star general like me to inspire them."
He refused to confirm estimates that 45,000 troops would deployed Friday.
"That decision is up to the president," he said. "Our mission is to deter and defend. I'm not prepared to give answers about numbers. We want to keep (Iraqi President) Saddam Hussein guessing. The response will be more than appropriate."
In addition to those deployed Friday, another 30,000 Army and Air Force troops had already arrived in the Saudi desert, at least 15,000 other Marines were en route and an equal number of sailors were believed headed that way.
Pentagon spokesman Pete Williams said the escalating U.S. troop strength is needed to deter 160,000 Iraqi soldiers in Kuwait, which borders on Saudi Arabia.
"It's there to deter acts of aggression," Williams said. "Remember, while we're talking about a buildup of U.S. forces ... Iraq currently has about 160,000 troops in Kuwait and 1 million men under arms.
The movement Friday began when members of the Marine Expeditionary Brigade left Norfolk, Va., for Morehead City aboard 13 ships to pick up troops from Camp Lejeune's 2nd Marine Division and 2nd Force Service Support Group,0along with members of the 2nd Marine Aircraft Wing at Cherryrom from Camp Pendleton's 1st Marine Division and the 1st Force Service Support Group, as well as the 7th Marine Expeditionary Brigade from Twentynine Palms, Calif.
Those troops were to leave by cargo planes. In Morehead City, a Camp Lejeune spokesman said no women would be_sent from that base because the Pensacola does not have separate facilities for women.
The United States already has 30-warships in the Persian Gulf region, including three aircraft carriers and the battleship USS Wisconsin.
Other troop movements appeared in the offing. A squadron of 20 F-1179 Stealth radar-evading fighter jets from Nellis Air Force Base in Nevada is reportedly heading to the troubled region next week.
The Army said it is deploying the 3rd Armored Cavalry Regiment at Fort Bliss, Texas. The 3rd 3rd Armored Cavalry Regiment includes 4,200 soldiers and is one of the Army's eleite fighting units.
It is equipped with 300 of the Army'smost modern tanks, the MA1A and other armored vehicles and also has Blackhawk troop carrier helicopters and Cobra gunship helicopters.
Retired Maj. Gen. James P. Maloney, a former commander at Fort Bliss, said he was not surprised that the Fort Bliss units were among the first tapped for Middle East duty.