{jathumbnail off}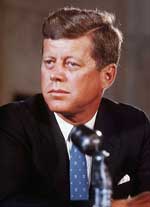 John F. Kennedy's inaugural speech set the tone for the idealism of the 1960s. It is considered one of the four best inagural speeches given from all 44 presidents.
It "set the standard by which presidential inaugurals have been judged in the modern era." ~ William Safire, former New York Times columnist and Nixon speechwriter.
"Kennedy was trying to write words for the ages. Idealism and optimism are not always in style, but they continue to stand out and they continue to have real power." ~ Richard Tofel, author of "Sounding the Trumpet: The Making of John F. Kennedy's Inaugural Address.
"It was almost a naive confidence at that time that if the government set their mind to it, they can succeed." ~ John Murphy, rhetoric expert at the University of Illinois.
"I think he really expanded and redefined our idea of what it means to be a citizen. That everybody has something to contribute and everybody has something to give back to this country that's given us so much." ~ Caroline Kennedy, Kennedy's daughter.
If Kennedy's challenge to the citizens of the 60s was among the four best presidential speeches, who delivered the other three?
Franklin D. Roosevelt's inaugural in 1933
Abraham Lincoln's two inaugural addresses
Historians rate Lincoln's Gettysburg Address as the greatest short speech ever written.