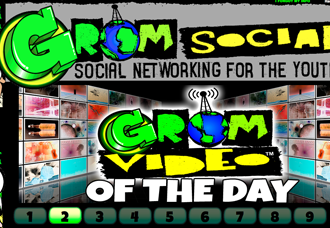 MELBOURNE BEACH, Fla. -- Zack Marks as an 11-year-old was banished by his father from Facebook twice.
That conjures up visions angry parents, punishment and repeated explanations of reasons why he shouldn't participate with Facebook. The social media giant's terms of service prohibit anyone under age 13.
You'd think Zack, who is now 12, is just waiting until he turns 13 to join Facebook, just like millions of teenagers are waiting to get their drivers' license
What happens when an 11 year old is banned from Facebook twice?
If you're Zack Marks you go out and create your own social network – GromSocial (www.gromsocial.com). Visitors are quickly converted into "gromers" a term coined on the site by kids after a few short visits. Grom is an Australian slang term for a young surfer which Zach translated into "a promising young kid, who is quick to learn".
"I made mistakes. One of my adult friends cursed and posted something inappropriate, and I cursed back. Also, I friend-requested grown ups who I did not know," Zach wrote on his website. "About a day later, my dad found out. He was really mad. I had to deactivate my account. Then, I was really mad."
After his father banned him from Facebook by his father for the second time, Zach asked his mother if it would be okay if he made his own "safe" site for his friends and siblings use. After getting permission, Zach borrowed $2,500 from his older brother Luke to create the site.
Four months later he presented the creation to his father for the first time. His father was so impressed by the level of sophistication that Zach had produced, that family members then rolled up their sleeves and pitched in to get the word out.
Grom Zack's website has been a success with 25,000 visitors per day. It also has a mobile app.
"After seeing Zach interacting on Facebook, with older kids and adults that were using language unsuitable for any child, I wanted to take control of the situation and eliminate my children's exposure to unprotected social platforms," said Darren Marks, Zack's father. "Amazed by what Zach put together we began contacting schools in the area and passed out material promoting the GromSocial network."
They gained 500 "gromers" overnight.
"Parental approval is an integral part of the site and is required before a child can begin experiencing the many wonders of the site< Darren Marks explained. "We built an environment that not only gives parents continued control but encourages safety and allows kids to be themselves. We have anti-bullying, anti-drug and anti-smoking sections."
GromSocial began looking for a strategic partner with the expertise and experience to assist it in managing the viral media blitz the site was to encounter. Thy formed a partnership was formed with Mark Arzoomanian and nthony Sirabella, two technology experts.