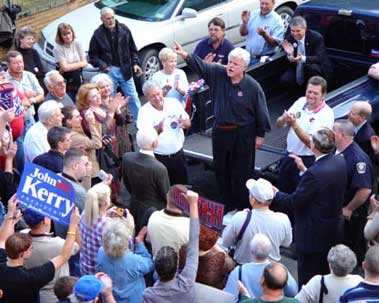 Edward M. Kennedy wore the word Democrat like a badge of honor.
For Kennedy and a generation of his supporters in West Virginia and his home state of Masschussets, it was an honor.
Conservative columnist Robert Novak despised Ted Kennedy's politics. Yet when he heard that he and Kennedy shared the same kind of cancer, Novak reached out to him. During the last year of Novak's life, they discovered that outside of politics they actually liked one another. Kennedy had an impact on people.
I grew up in Logan County, W.Va. one of the poverty-stricken areas that helped Jack Kennedy win the presidency. He never forgot it. The people in Logan never forgot the Kennedy clan because they helped Logan pull itself out of the hole created by coal mining, poverty and a repressive political system. The Kennedys knew the West Virginia system, worked it, but didn't forget the promises they made.
Logan Countians grieved that day in November 1963 when an assassin's bulletin felled John F. Kennedy.
When Robert Kennedy campaigned in Logan when I was in high school, the town was gridlocked as he spoke at the county courthouse. Some friends and I carried "Eugene McCarthy For President" signs while he spoke. He was very gracious about it. I suspect that Kennedy and my two friends were the only ones in the crowd who could explain who Clean Gene was.
My Dad said you couldn't buy a place to stand in town that day. They grieved again when an assassin felled that Kennedy.
There was only one event that drew more people than Bobby Kennedy's visit. That was when Jack Dempsey brawled with Luis Firpo for the heavyweight championship in September 1923. There was only one radio large enough to produce the volume a crowd could hear.
Why Dempsey?
Jack's family originally came from Logan to Manassa, Colo. He claimed to be related to Hatfield family known for famous feud. According to A Flame of Pure Fire: Jack Dempsey by Roger Kahn, the Dempseys moved back to Logan. Jack worked in the mines drilling holes for powder and loading coal in 1909-1910.
The Dempsey legend has Jack building his strength loading coal at Gay Coal & Coke, a stone's throw from Dempsey Branch. They say the toughest people in Logan County lived on Mud Fork. The toughest people on Mud Fork lived on the Dempsey Branch of Mud Fork. Jack's family lived in the last house, upstairs.
The coal company's founder, Harry Gay, shipped the first car load of coal from Logan in 1904. The company mined coal in Demspey Branch according to maps filed with the West Virginia Department of Mines
Dempsey Branch no longer exists. It is filled with dirt and rock from the long-promised four-lane U.S. 119. The West Virginia corridor highway system was supposed to promote quick transportation in the coalfields. It was funded by the Appalachian Regional Commission, the Federal Highway Administration and pushed by Jack Kennedy's successor, Lyndon B. Johnson.
It was a Great Society program that also added to Logan County's downfall. It provided a quick way out of town to jobs in the rust belt for high school grads. The county's population hit a high of 77,391 in the 1950 census. As mechanized coal increased mine efficiency, the population thinned to around 50,000 in the days before I migrated.
By 2000, the population fell to 37,710, the lowest level since 1920. By the latest census, the population hovered at 35,000 with 23.1 percent of the population level living below the poverty level, compared to 13.2 percent nationwide.
When coal market conditions are good, a skilled miner can earn $100,000 per year, yet the median income in Logan County is $33,866, down from the national median income of $37,528.
In later years you could visit many homes in my county. There would be pictures of the Kennedy brothers (Bobby and Jack) on one wall, and a portrait of Jesus on the facing wall.Depending on the home, there could be a picture of John L. Lewis on another wall.
When Jay Rockefeller was in a hot campaign against Arch Moore for governor, Ted Kennedy returned to Logan several times with Robert C. Byrd and Jennings Randolph to campaign for Rockefeller. Traffic was gridlocked again because those old yellow dog Democrats were loyal. Byrd played his fiddle, I believe it was "Rye Whiskey, Rye Whiskey." Byrd was the only U.S. senator with a record album.
There was some real irony that day. At the time, Randolph had been in the U.S. Senate since Roosevelt had been president. Now Byrd's tenure is surpassed only by Strom Thurmond.
Kennedy was a master at compromise and negotiation. But Byrd was cunning. He once hid a line item in a budget bill that would have moved the CIA to Clarksburg, W.Va.. In a compromise engineered by Kennedy, the FBI built its new fingerprint center there. Byrd just wanted jobs in West Virginia. Government jobs paid well, and the jobs didn't move away when the plant or mine closed down.
Kennedy even campaigned in Logan for George McGovern. Logan was the only county in West Virginia McGovern carried against Nixon. I don't think Nixon ever forgot that. Fifty-four of the 55 counties voted for Nixon.
When I was a reporter in Eastern Kentucky, we slogged though Mud Creek in Floyd County so Kennedy could tour a rural clinic. At a school he stopped for a while to play basketball with a group of kids. You can't fool kids. He had fun. You could tell. That photo was on his wall of his senate office.
On another trip through Whitesburg, Ky. in Letcher County, he stumbled across Sheriff Ben Brown. The two men hugged. They had not seen one another since Brown stood guard over Jack Kennedy's coffin in the capitol. Back then, Brown was a ramrod-straight squared away Green Beret just back from Vietnam when he drew that guard duty. Kennedy was responsible for the creation of the Green Berets.
Usually that duty was done by The Old Guard, the garrison that guards the military district of Washington.
I snapped a picture of the sheriff and the senator. That one was also on Kennedy's wall.
Letcher County was a non-union area in the coal fields. It was the scene of a UMWA strike against Duke Power. Kennedy walked to the picket line at the Highsplint mine to be with the strikers.
I just saw a photo made in 2004 in Logan when he campaigned for John Kerry. Kennedy was delivering the stump speech from the back of a pick-up truck. Robert C. Byrd stood near the tailgate looking up at his friend. Kennedy was at ease. You could tell he knew his way around a political rally. The truck was parked along Stratton Street just down the block from the Logan Banner where I had my first newspaper job.
The August 26th Banner has a straightforward story of a woman who remembered all the Kennedy brothers. She cried when she heard of the death. The story mentioned Logan Mayor Claude Ellis. My dad's family lived next to the Ellis family near Omar. Claude, also know as Big Fish, was the kingmaker for Jack Kennedy in Logan County.
It's been rumored that Claude could call Jack Kennedy on his private line when he needed help.
We didn't lose a senator, we lost a champion of ordinary working men and women.