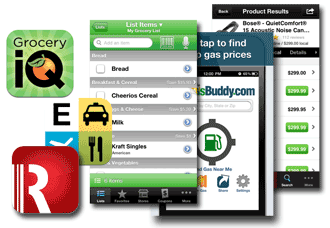 ORLANDO, Fla. -- Smart phones and websites can help consumers still dealing with ties, toys, tinsel and traditions as leftovers from Christmas.
The traditions come at a high price contributing to consumer credit card debt that has reached $857.6 billion. Holiday spending has helped saddle American families that carry credit card debt from month to month with average balances totaling $15,328, according to Etta Money, president of InCharge Debt Solutions
Money says the the 37 percent of consumers with unsecured debt can solve their financial stress in the coming year. Smart phone technology offers tremendous tools that can make these resolutions become a reality in 2013."
Here are five apps that can help ;manage their money more effectively:

There are plenty of apps that help locate the closest no-fee ATM machines, hotels and restaurants offering coupons, plus programs like Mint.com offers turnkey money management tools. Nonprofit InCharge Debt Solutions also offers an array of budgeting tools and calculators.
InCharge Debt Solutions provides an array of certified counseling services including an alternative to debt consolidation that allows consumers to consolidate credit card bills into one monthly payment, pay debt off faster, lower interest rates regardless of credit score, stop collection calls, eliminate late fees and build a budget and financial plan to follow:
Bankruptcy Education and Counseling: Take required pre-filing and pre-discharge courses and receive counseling from certified staff. Call 866-729-0049.
Credit Counseling: Certified credit counselors give free, confidential counseling (online or by phone) and offer an alternative to debt consolidation through debt management programs and free budgeting assistance. Call 877-486-4924.
Housing Counseling Services: Get help with HUD-approved foreclosure prevention, first-time homebuyer education and free counseling. Call 877-251-1882.
Servicemember Help: Specialized help for military families facing financial difficulty. Call 877-258-9549.
Online Counseling: Free, comprehensive web counseling provides budget building tool, analysis and available solutions from your computer. Visit: www.incharge.org.
About InCharge Debt Solutions
Founded in 1997, InCharge Debt Solutions is a leading 501(c)(3) non-profit, community-service organization offering confidential and professional credit counseling, housing counseling, debt management, bankruptcy education and general financial education to individuals seeking options to manage credit card debt and consolidate debt payment. The company, accredited by the Council on Accreditation (COA) and a member of the National Foundation for Credit Counseling (NFCC), interacted with over 1.1 million consumers in 2011. InCharge is affiliated with InCharge® Education Foundation, Inc. (ICEF) which is dedicated to providing educational products, services and research supporting the personal financial literacy of consumers across America. ICEF also provides financial literacy training to servicemembers and their families through MilitaryMoney.com.