DETROIT — While Congress kicks the can down the road and inching closer to the fiscal cliff, the wordsmiths at Lake Superior State University have doubled-down on a passion for language with the release of the 38th annual List of Words to be Banished from the Queen's English for Misuse, Overuse and General Uselessness.
That lead p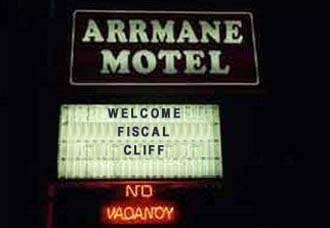 Motel sign on I-395 at U.S. 1aragraph breaks just about every writing rule known to man. When you think about the enormity of the fiscal cliff issue wallowing before Congress, what's a few words?
While you are reading this, Congress is breaking most common sense rules related to hearing the voice of the people. Those of you out there reading this list already know that. You know who you are.
Lake Superior State University's 38th list of banished words:
01Fiscal cliff
02Kick the can down the road
03Double down
04Job creators/creation
05Passion/passionate
06YOLO
07Spoiler alert
08Bucket list
09Trending
10Superfood
11Boneless wings
12Guru
You may have a few words of your own to add to the list. Lake Superior State University is accepting nominations for next year's list here.