"What was the best descriptive lead ever written in a story," Eugene Patterson asked a roomful of reporters at a writing conference.
"Jesus wept," he thundered as he pounded the podium.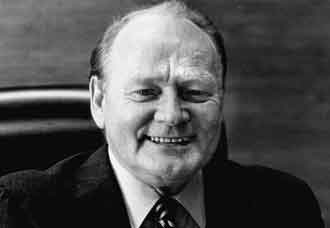 Patterson, a Pulitzer Prize-winning editor died Saturday. He was 89.
Wherever he spoke, he had a way of capturing everyone's attention.
Patterson was editor of the Atlanta Constitution from 1960 to 1968, winning a Pulitzer Prize in 1967 for editorial writing. He wrote about the civil rights movement during years when many southern newspapers did not aggressively cover it.
Patterson's September 16, 1963, column about the Birmingham, Ala., church bombing that killed four girls was so moving, Walter Cronkite asked him to read it on the CBS Evening News.
"A Negro mother wept in the street Sunday morning in front of a Baptist Church in Birmingham," Patterson began the column. "In her hand she held a shoe, one shoe, from the foot of her dead child. We hold that shoe with her."
At the conference where he pounded the podium, Patterson talked about the editorial that garnered journalism's coveted gold medal. Patterson said he told Cronkite that he thought the editorial was too long for the evening news.
Patterson said Cronkite told him: "Yes, it's a bit long but the people of America need to hear it."
Patterson and Cronkite were both ex-Unipressers, a term for United Press International reporters.
Many believed it was the pinnacle of his career. Read it at the Poynter Institute website.
The Georgia native and Army veteran was a legend at United Press International for his writing prowess. Back then it was just United Press. The "I" didn't come along until UP absorbed International News Service in 1958.
When he was stationed in UPI's London bureau he wrote a lead, lede in newspaper lingo, about Ernest Hemingway. Hemingway was feared dead in an airplane crash in Uganda.
"Ernest Hemingway came out of the jungle today carrying a bunch of bananas and a bottle of gin," Patterson wrote.
He also knew when news events drove history. Because of split-second timing, Patterson and a group of others, reported the beginning of the Korean War two hours ahead of any other news organization, according to downholder.org, a site dedicated to recalling UPI history.
UP achieved a historic beat on the start of the war. Jack James, in Seoul, made the first report of the invasion of South Korea by the North on June 25, 1950. Not even the U.S. Government or the United Nations had any report of the action until United Press dispatches began moving. It was a two hour, 40 minute beat, according UPI veteran Dick Harnett
According to the downholder.org account, Patterson and Charlie McCann, two veteran editors were on duty in New York. "Bulletin! Break 'em Up!" Patterson shouted. It was on the wire in seconds. This was late Saturday and near closing time for Sunday morning newspapers.
The New York Times, in a historic case of journalistic arrogance, refused to print the story because the Associated Press had not "confirmed" it. The Times editor later wrote United Press an unusual letter of apology "for letting AP talk him out of printing our scoop and thus missing an edition on the start of a war," said Patterson.
UPI, a shadow of the once revered news service reported Patterson's death quoting the St. Petersburg Times. It made no mention of his achievements at United Press.