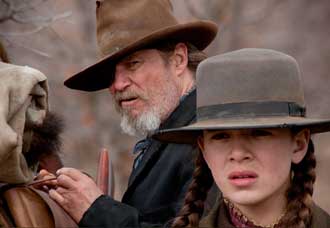 Movie remakes tend to be disappointing among film lovers. The Coen brothers' version of "True Grit" is not one of those dismal remakes.
"True Grit," the Coen brothers' Western starring Jeff Bridges as a tough marshal, tells a story of a strong-willed girl who wants to track down her father's killer.
The 2010 edition of "True Grit" is a reprise of the 1969 western drama that earned John Wayne his only Oscar.
The Coen Brothers tale is already in line for dozens of nominations.
As a remake of a John Wayne standard, it does not disappoint movie viewers. In fact, it stands on its own in many ways.

True Grit is a mythic tale of vengeance and valor that hones in on the plainspoken humor, storytelling and rough beauty of Charles Portis' classic American novel. The novel first appeared as serial in the Saturday Evening Post in 1968.
The movie opens with the mournful ballad where Johnny Cash predicts that "God's Gonna Cut You Down." The characters cut down the bad guys leaving enough pistol brass to fill a theater aisle.

The story is set in the 1870s and Mattie Ross (Hailee Steinfield), a 14-year-old farm girl determined to extract revenge for the death of her father, shot in cold blood by Tom Chaney (Josh Brolin) over two gold pieces, tells it.
She enlists Rueben J. "Rooster" Cogburn (Jeff Bridges) described as the most ruthless U.S. marshal in the Arkansas territory. Cogburn, in Mattie's eyes, has 'true grit." She overlooks that Cogburn is also a drunk given to shooting people on a whim.
Cogburn did not earn points by using Little Sister instead of Mattie's given name.
Bridges has portrayed a number of drunkards or men with troubled pasts. In "Crazy Heart" he was the washed-up country singer Bad Blake. Don't forget the his portrayal of the ultimate slacker The Dude in The Big Lebowski.
"Whole worlds have been tamed by men who ate biscuits," Blake said in "Crazy Heart." Did you ever notice that heroes and anti heroes both have adjectives as names?
As Cogburn, Bridges does little to tame Liitle Sister or Texas Ranger LeBeouf, but he does tame a passel of bad guys.

Along the way, she enlists LaBeouf. He can only be described as a dandy. He's been tracking Chaney for months because Chaney killed a state senator in Texas. Glenn Campbell portrayed LaBeouf (Matt Damon) in the original. Campbell was dandy in that role.
Mattie insists on accompanying Cogburn, whose drinking, sloth, and generally reprobate character do little to instill her trust. Against the marshal's wishes, she joins him in his trek into the Indian nation in search of Chaney.
Critics contend that "True Grit" is not a remake, but an adaptation of the novel.

The Coen storyline is faithful to the original in many ways.
For example, the character of Col. G. Stonehill (Dakin Matthews), portrayed by Strother Martin in the original, has the same nasal twang and mannerisms used by Martin.
Canadian Barry Pepper, who portrays Lucky Ned Pepper in the Coen Brothers version, sounds just like Robert Duval who was Lucky Ned in the original.
Some classic lines are common to both movies.
Ned Pepper: Give us the road. Rooster, what's your intentions?

Rooster Cogburn: I intend to kill you or see you hang in Fort Smith at Judge Parker's convenience. Whichever.
Pepper: That's strong talk for a one-eyed fat man.
The Coen brothers use another ending. We won't spoil that.
"True Grit," PG-13, 110 minutes, Paramount Pictures, directed by Joel and Ethan Coen.